didi davis food
Regular price
Sale price
$7.95 USD
Unit price
per
Sale
Sold out
Share
Spiced Gold Sugar combines a cozy blend of cinnamon, nutmeg, ginger, allspice, and large caramel-colored cane sugar crystals. Sugar is turbinado style with high molasses content. Crunchy like candy, tastes like apple pie.
Spiced Gold Sugar is perfect sprinkled on cookies, bars, scones, muffins, sweet breads before baking. In apple pie, baked apple, applesauce. Try on top of pumpkin pie, bread pudding before baking. Top butter-cooked vegetables. You might find yourself eating this irresistible blend right out of the bag.
Ingredients: Natural cane sugar, cinnamon, nutmeg, allspice, ginger.
View full details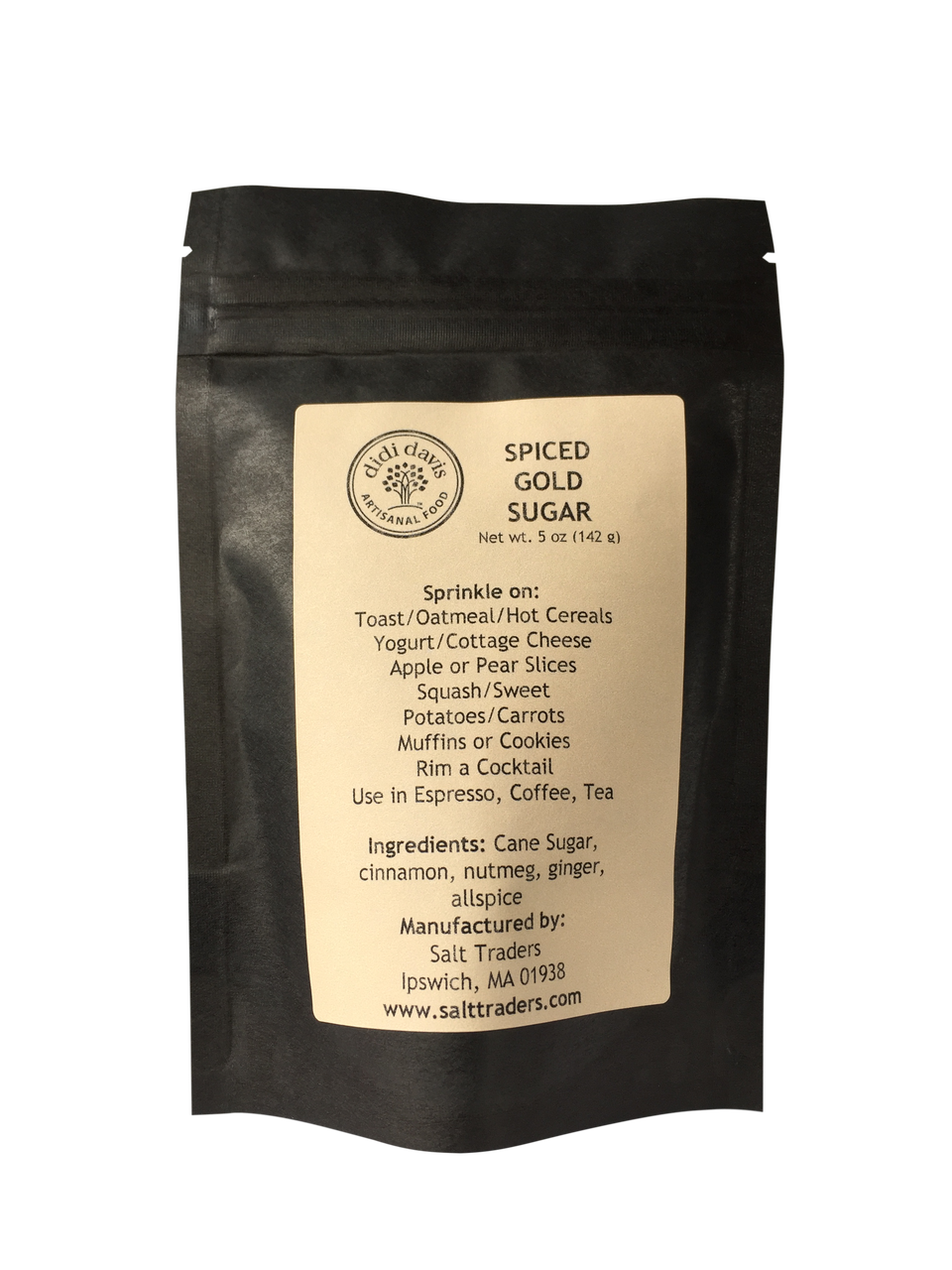 This is good stuff!
I use this on baked goods to give them a special touch and it never disappoints. In fact, I am giving it as a Christmas present to some bakers I know. Lovely!
Definitely Different...
...It is taking some time to get used to this product...I use it in my Coffee...it really is a nice enough flavor, but a little bit too full of "spice"...I don't know what else to say...NOT "SpicY", as in HOT, but a different level of taste, another layer of taste...but, I like it...
A great "special" touch
I use this sugar as a special topping on cookies, as part of a rub for pulled pork, in sauces, it has endless uses for me!
Spiced Gold Sugar Makes Golden Pies
I first found Spiced Gold Sugar in 2009 in an open market place in Columbus, OH, and started using it to sprinkle on top of my apple pies. What a difference it makes to the pie! It is an absolute incredible "secret ingredient" that has made my pies sparkle, literally and figuratively. There have been a few times I forgot to use the spice and it really made a difference to both the taste and look of the pies. After I brush on some egg white on the top crust, I liberally sprinkle on the spiced gold and the crust is beautifully and shiny golden when the pie is done. Thank you so much for this wonderful blend of spices.
Yvonne Thomas of Cincinnati, Ohio
Tastes of autumn in a tin
The smell and flavor of this sugar makes me think of the fall. Great for livening up oatmeal, but I also dip slices of pear in it for a snack.