didi davis food
Regular price
Sale price
$7.95 USD
Unit price
per
Sale
Sold out
Share
Orange Ginger Sugar is an assertive blend of fresh-grated orange zest (we do not use dried orange zest), spicy ground and crystallized ginger, and pale ivory organic cane sugar crystals. Fills the senses, lingers in the mouth, and you hit nice chewy surprises from the crystallized ginger.
Ways to try Orange Ginger Sugar:
Top pumpkin or other sweet bread before baking
Top butter or spice cookies before baking
Top scones or biscuits before baking
Use in place of regular sugar in crepe batter for dessert crepe
Mix into hot cereal
Top unsweetened, plain yogurt and add some fresh fruit; raspberries are fantastic
Scatter Orange Ginger Sugar over pistachio ice cream or any other ice cream
Try on cheese cake
Use to glaze or sprinkle on pork, poultry, fish (salmon in particular)
Sprinkle or glaze vegetables such as carrots, sweet potatoes, winter squashes, parsnips
Stir into hot tea
Rim a cocktail
Ingredients: Organic cane sugar, orange zest, crystallized ginger.
View full details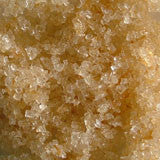 Orange Ginger brightens my mornings
My morning grapefruit has been transformed - I brûlée the Orange ginger sugar on top. I first bought the sugar at a market in Bainbridge, but I would recommend ordering directly - the aroma and freshness or the orange peel and ginger is much more intense.
Molasses cookies dance the Mumba
Put the dance step into your molasses cookies by rolling them in the ginger orange sugar. It enhances the old fashioned cookie with a new flair.
Mornings are a scented delight
Absolutely love this sugar on my hot cereal. The heat from the cereal makes the orange zest and ginger scent just fill the house and taste just as good!!